San Francisco had the pleasure of hosting this year's High Times Medical Cannabis Cup at the Concourse Exhibition Center – and in short – it was a blast! These events are essential to the success of a grass-roots movement like medical cannabis, because they let those involved network and tighten their collaborative efforts toward a common end – making medical cannabis socially acceptable. However, while recent events – like the Marijuana Conference by Deal Flow Media – focused on the business, legal, and economic side of this burgeoning industry, High Times chose a much broader stroke of coverage. And, in itself, this isn't a bad thing, since it's important not to alienate any demographic of cannabis enthusiasts. But, truth be told, if it wasn't for the title "Medical Cannabis Cup," one would have found it difficult to persuade an outsider that this plant offers any medical potential whatsoever.
Inside, the concourse was dedicated to vendors (lighting systems, hydro companies, and paraphernalia booths) and panelist seminars, while the outside section provided space for dispensary booths and companies offering hash hits, bong rips, free joints, and giant bags of vaporized cannabis. To put it plainly, inside is the reason why medical cannabis is happening in the first place, and outside is the reason why we aren't progressing as quickly as possible. Nevertheless, anyone involved with cannabis deserves recognition, since the movement requires everyone's involvement to succeed.
But that last notion is exactly what I took away from this event. Everybody isn't participating in the progress. We have millions of cannabis patients scattered throughout this great state, and yet, few of them contact the powers that be to share their insight into the world of medical cannabis. Like I mentioned before, these events are essential to collective communication throughout the network of cannabis supporters; but, the real change only happens when those outside of our circle begin to see the true value of medical cannabis. Unfortunately, while many advocates and articulate enthusiasts are given the opportunity to share their perspective in a professional manner, many of the cannabis antagonists only see potheads and hippies smoking weed recreationally whenever they do take the time to assess our beloved community.
So, while I do applaud the immense success of the High Times Medical Cannabis Cup, I am hesitant to say that it was a good thing for the medical movement as a whole. I spent most of my time inside, attending the seminars – since I'm really invested in the prospect of medical cannabis becoming a standard participant in our failing economy. Of course, I had to run outside to celebrate 420 with everybody; but, I couldn't help but draw a distinct contrast between these two environments.
Anyway, I can say that Cannabis Times had a fantastic time attending the High Times Medical Cannabis Cup, and I'll be sure to put up another post to discuss some of my favorite products from the event. I've included a list of the winners of each competing category for your perusal, so shoot us any questions regarding them, since I will be featuring a few of these products in my next post.
High Times Medical Cannabis Cup Competition Results:
BEST BOOTH
1st Place – Magnolia Wellness
2nd Place – Nor Cal Genetics
3rd Place – Elemental Wellness
BEST PRODUCT
1st Place – The Incredibowl
2nd Place – Central Cali Cannabis Edibles Package
3rd Place – Bhang Bar
BEST GLASS
1st Place – Slider
2nd Place – Essential Vaaapp
3rd Place – Team Death Star
EDIBLES CUP
1st Place – Greenway Compassionate Relief's Baklava
2nd Place – Bhang Chocolate's Bhang Chocolate Triple Strength Fire Bar
3rd Place – Vapor Room Co-operative, Om Chocolate Dipped Peanut Butter Truffle
CBD AWARD
1st Place – Master Control Unit Collective, Alaskan Thunderfuck (9.23%)
2nd Place – Elemental Wellness, Center, Jamaican Lion (8.10%)
BEST NON-Solvent Hash
1st Place – Florin Wellness Center, Herojuana
CONCENTRATES CUP
1st Place – Philips Rx, Mars OG
2nd Place – Berkeley Patients Group, Sour Diesel Wax
3rd Place – The Cali Connection Seed Company Collective, Regulator Kush Wax
HYBRID CUP
1st Place – D & M Compassion Center, OG Kush
2nd Place – Buds & Roses, Star Dawg
3rd Place – Leonard Moore Co-Operative, The Pure, grown by Sovereign
INDICA CUP
1st Place – Harborside Health Center (San Jose), Boggle Gum
2nd Place – Elemental Wellness Center, The True OG
3rd Place – 7 Stars Holistic Healing Center, 7 Star Pure Kush
SATIVA CUP
1st Place – Granddaddy Purple Collective, Bay 11
2nd Place – OrganiCann, Alpha Blue
3rd Place – Happy Lil' Trees, Sonoma Coma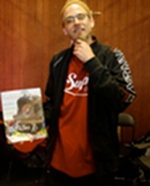 Photo:  (above) Rocker T performed during the VIP party on Saturday night.  Here he is looking philosophical with Cannabis Times Magazine.
Post Grid Photo:  MAPS had a great room on the second floor with Om Shantea providing an expert tea-steeped experience, and several artists performing live painting nearby.
Written by Matthew J. Cote – Executive Editor of Cannabis Times Magazine and co-creator of IStrainGuide