Our Executive Editor, Matthew J. Cote, recently attended the High Times Medical Cannabis Cup in San Francisco last week. Among the dozens of dispensary and advocacy booths were a slough of vendors contributing their hard word to the industry. Everything you could ever imagine was at the cup, and some of the favorites were either revolutionary within themselves, innovative within the industry, or active in patient education. Here is a few of Matt's favorite products from the event.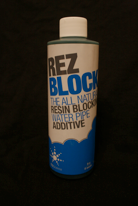 Rez Block is an all-natural (vegetable based) solution by 420 Science that prevents resin from caking on the sides of your water pipe. Fill up your pipe as you would normally, then add Rez Block to the water to maintain a clean pipe! After a few uses – when the water starts to accumulate ash – simply pour the water out! No more crust and ash stuck on your glass, making it difficult to clean. Rez Block is available in 4oz ($7.95) and 8oz ($11.95) bottles directly from 420 Science !

This is one of the most revolutionary ideas Matt encountered at the cup. It's discreet, it's convenient, and it works! It's the Grinder Card by V-Syndicate. Stored in your wallet (like a normal credit card), the Grinder Card let's you grind on the go by simply rubbing your medical cannabis against the card's inlaid metal grate. They're available in several designs and styles offering both course and fine grain, which meet and exceed your every need. Get yours at Grinder Cards for less than $10.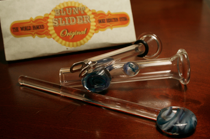 The Blunt Slider by Hand Blown Glass received 1st Place for BEST GLASS at the 2011 High Times Medical Cannabis Cup in San Francisco! This remarkable device features a custom metal brace that doesn't fall out; while many glass blunts require front-loading, the Original Blunt Slider enables rear-loading, which means that you can keep medicating without end! The Original Blunt Slider comes in three sizes (Slider, Blunt Slider, and Magnum Slider) with an infinite variety of color schemes and styles – you can even get a Slider with a penguin, dinosaur, or one of countless other glass critters on it!  Check them out at Slider System!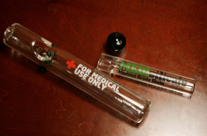 MEDI-silicate are glass spoons/rollers/bats/bubblers made using German Schott Borosilicate Tubing, meaning they are quality and medical-grade. The roller uses an inverted cone mouthpiece to act as an ash catcher; the bat (aka the medicine taster) has a detachable cover with four holes, which also acts as an ash catcher. Since the downside to these styles is a mouth full of ash, these are an exceptional item. Affordable and durable (since they are silicate not glass), MEDI-silicate are available at your local head shops – check them out!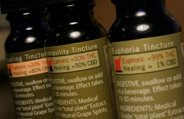 Alta California has devised a brilliant line of tinctures that incorporate a varied proportion of THC to CBD, offering a wonderful spectrum of treatment: Euphoric (100% THC), Tranquility (50/50), and Healing (20% THC/80% CBD). One of the most inspirational aspects of the Alta California line of tinctures is their investment in patient feedback. By visiting ProjectCBD, patients can fill out a survey to share their experience with the tincture! This is essential to perfecting the practice of cannabinoid administration, and I am really excited to find such professional products already available to the patient public. You can find Alta products at your local medical dispensary, or swing by Alta California to read more about this impressive line of medical tinctures.